I grew up with a love of shooting firearms. I owned several. I maintained a membership at a local range. I even earned a concealed carry permit. I have fired tens of thousands of rounds at targets, with both rifles and pistols.  Steel repeating targets where my favorite; they make a satisfying sound when I hit them.  I also owned a 12-gauge Remington shotgun which I used to shoot skeet.  Skeet shooting can be a lot of fun–both the shooting and the throwing.
In order to receive a concealed weapon permit or CCW, I attended a mandatory weekend class.  I had to pay a moderate fee and bring my own pistol and ammunition.  I expected the course to outline basic firearm safety, and possibly educate a little on California state firearm laws.  The content of the course was not at all what I expected.  The County District Attorney taught the course together with a former enlisted man who also trained the local S.W.A.T. and other law enforcement.  The curriculum included "situational awareness"— in other words, a battle-ready presence of mind.  On the range, we fired at human silhouette targets.  Our instructor told us we should shoot to "stop" the target, and demonstrated where to aim for the vital organs. He also instructed us to fire at the target's heads.  The D.A. concluded the course with a lecture on the legal definition of justifiable homicide.
The instructors created hypothetical scenarios from everyday life.  In one scenario, we were hostages taken in a bank robbery;  in another, we were customers witnessing an armed robbery at a convenience store.  Both scenarios ended with shooting and killing the armed assailants, and thus becoming a hero.
I ended up selling all of my firearms, due in large part to my disturbing weekend with the district attorney.  I have no desire to shoot anyone. The CCW course convinced me that, for as long as I carried a firearm, there was at least a very small chance I may have to make a really tough decision with no time to think it through.  There is a strange part of the typical American male who—educated by Hollywood—likes to imagine himself a hero.  It is possible that I may become a hero someday. I would not want this to come from shooting someone.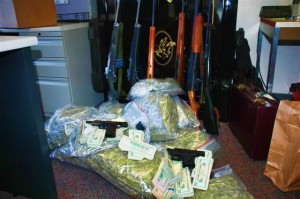 Throughout my love affair with firearms, I was taking considerable legal risks.  I was in possession of large amounts of cannabis and guns at the same time. These two items were not part of an image. I did not imagine my self another "Scarface."  I was not in the practice of flaunting my marijuana or my firearms. My ownership of guns was not an attempt to identify myself with any sort of social class.  My firearms were always kept under lock and key, and were certainly not kept loaded.   Furthermore, the cannabis I grew, processed, stored and consumed was legitimized by my doctor's written recommendation.  At the time, I honestly believed I was in compliance with state marijuana guidelines and federal firearm laws.
I could not have been more mistaken.
Federal law supersedes state and county laws in matters concerning medicinal marijuana.
Federal law continues to classify marijuana as a schedule 1 drug and at present refuses to consider marijuana a medicinal herb. This category also includes Heroin, Ecstasy, LSD, and GHB.
Federal law states that it is illegal for any person to posses a firearm if he or she is "an unlawful user of, or addicted to marijuana or other controlled substances".  To clarify, this statement made by the DEA on Sept 21 2011 states that medicinal marijuana users may not purchase or own firearms.
Possession of a firearm while committing a felony mandates a "sentencing enhancement" in both Federal and State court.  These "enhancements" assure stiffer sentencing in the event that judge or jury decide that a crime has been committed.  It is not uncommon for state sentencing enhancements to mandate prison time and "strikes" in place of county jail and fines. Federal sentencing enhancements for firearms typically add an additional 5 years prison sentence.
In California, marijuana guidelines differ greatly from county to county, and are often local interpretations of vague state laws. These interpretation also vary between law enforcement personnel, the district attorney's office, and the judges.
I understand and approve of most gun laws, even in California where they are particularly strict. These laws have been designed to prevent drug dealers from committing violent crimes.  In my case there was no malice or criminal intent. I am just a gun enthusiast who treats his medical condition with marijuana.  The lesson I want to be taken away from this story is that marijuana and firearms do not mix–at least not in court.  When you take up marijuana to treat your condition, you effectively surrender your 2nd amendment right to bear arms. I don't believe this is right, but it is what it is. If you fail to heed this warning, you may well regret it for a very long time.
In short, the best firearm for marijuana garden defense is no firearm at all.
What is the best firearm for Marijuana Garden Defense?, 4.4 out of 5 based on 10 ratings